The snow is melting, the sun is shining, and bright colors are flocking back into everyone's wardrobes.  Yes, spring has sprung at Bumper Specialties!  The arrival of this bright season includes lots more gardening and vegetable chopping.  Interestingly enough, a very common use for our rubber feet is cutting boards!   We know some blogs and web pages are dedicated entirely to which material is best to use for a cutting board, but at Bumper Specialties, we love them all!
Our self adhesive feet are used on a variety of kitchen cutting boards.  These bumpers stick on wood chopping blocks made of everything from teak to bamboo.  Also, our strong adhesive works well for plastic, glass, and acrylic cutting boards.  These bumpers stabilize even marble and granite cutting boards.  We have some great customers that make high quality and unique cutting boards using all sorts of materials—all of which use our rubberized feet.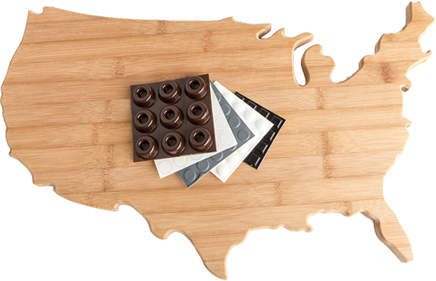 AHeirloom, a Brooklyn company, makes very unique cutting boards designed in the shape of all 50 US states, including Bumper Specialties' home state!  AHeirloom even personalize every board with a little heart, star, or house on your hometown.  Like Bumper Specialties, AHeirloom provides a quality product made in the U.S.A.
AHeirloom uses Bumper Specialties bumpers to make sure the cutting board stays in place when chopping up all those vegetables.  They prevent sliding on counter tops, but without leaving any kind or mark or scuff.   So be sure to check out your home state with an AHeirloom cutting board… Bumper Specialties did!
Rubber Feet on Glass and Plastic Cutting Boards
Glass and plastic cutting boards are very popular kitchen cutting boards.   They are both easy to keep clean because they can withstand strong disinfectants and cleaners without any damage to the board.  And don't worry about losing your rubber bumper feet on the bottom of your cutting board: we offer an high performance acrylic adhesive that can survive the wash cycle and still hold tough to the bottom of your glass cutting board.  You can find Bumper Specialties bumpers sticking strong to a Vance cutting board!
Rubber Feet on Granite Cutting Board
Our rubber feet stabilize even the heaviest of cutting boards, like granite and marble.  Take a look at these gorgeous pieces by Deer Isle Granite!  Deer Isle granite prides itself on being part of American history, supplying granite for such landmarks like Rockefeller Center in New York City.  Clearly, Deer Isle Granite is the absolute top-of-the-line in the granite industry… so it only makes sense to have top of the line bumpers protecting them!
Deer Isle Granite use our rubber feet to protect a variety of kitchen applications, including their granite cutting boards,  trivets, serving boards, and paper towel dispensers!  Our plastic feet are long-lasting quality, just like Deer Isle Granite products.
So this spring, enjoy the nice weather and fresh veggies with a new cutting board, be it wooden, plastic or granite.  And don't forget to look for those small (but important!) rubberized feet keeping your cutting board in place!